The Most Amazing, Energetic, Multi-talented
Performer in the industry today.
Originality is one of her special assets.
A unique quality that sets her apart
from all entertainers.
Bio History

Lightning Struck and she came down. Koko has
performed since the tender age of four. She has
dynamic talent in which she Sings, Dances, & Acts.

She's an Recording artist, Producer, Arranger,
Singer Songwriter and Exciting performer as well
as Business Owner. She's a Specialist in Live
Performance. Kleopatra fuses elements of passion
together in Jazz, Rhythm & Blues, Gospel, Hip-Hop,
Dance, Blues & Funk. Creating a mixture of her
own style that will keep you asking for more.
Her style is smooth like J.Lo, Sade, Ashanti, Aretha,
Sara Vaughn, & Chaka.
Koko has performed with big bands ranging from 7 to 24 pieces as well as smaller bands. She has Opened up with D. C. Maestro for The Gladys Knight Show at the Auditorium. She was also featured with Dorothy Donnegan at the Legendary Village Vanguard in New York City. Performed in a show with Mad Lion and other Dancefloor Distributions Artists. Previously signed with Echo Record Label, Koko also worked for Dancefloor Distribution. Artist such as Brenda K. Starr and Stephanie Mills were distributed there. She has also performed with The Great Legend Groove Holmes and others.


Private Vocal Instruction
Studied under renown vocal coach Ann John Ruckerts
Film Credits
"Rumble Fish"
Film Director: Francis Ford Coppella
Actors: Lawrence Fishburn, Matt Dillon and more.

She migrated to Rochester in 1981
Family business kept her in Greece, N.Y.
Instead of going to New York City, where movie
offers were made, she stayed to help the family business.
Tragedy struck and she disappeared from the stage into her
recording studio where she has more than 15 years of
production experience. Knowing her vision, purpose,
and her destiny. Faith keeps her going today with her
Kleopatra's Production Company.
Watch Out For This One!
Her Voice is Sultry, Provocative and Mysterious
in which she gives credit to The Great Almighty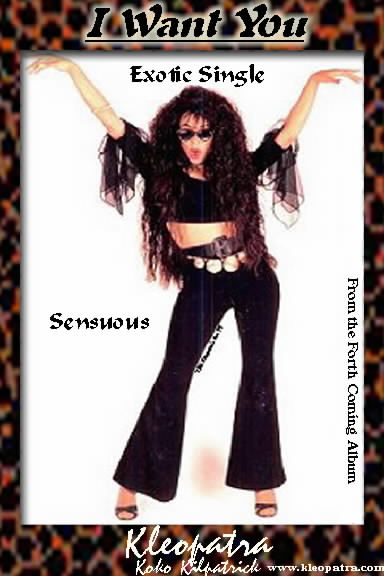 Kleopatra has a Sound that
is
Smooth & Moving,

Heart Felt Emotions with
Soul & Spirit

Combined With Her Own Originality
~ Like No Other ~


For Bookings: LP-contact@kleopatra.com
585-415-7786
A Performer That You Don't Want To Miss